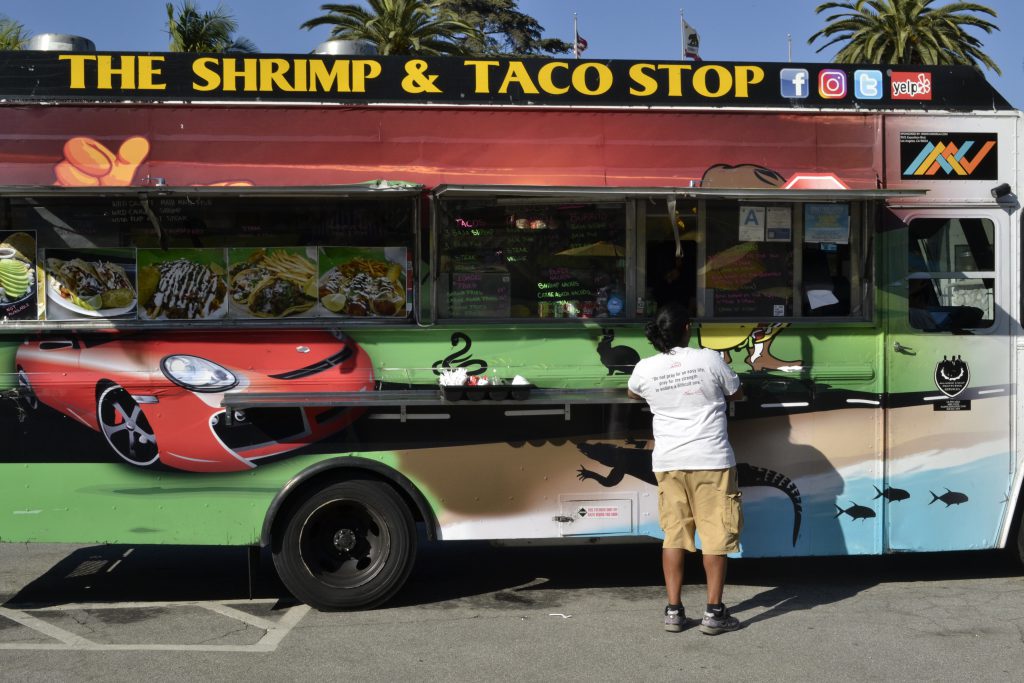 Drop the spatula and pan because you have (almost) exactly one month left to come out and enjoy some of the best meals on wheels at Food Truck Thursdays at Fairplex!
We've partnered with Curb Side Bites to bring the best food trucks from LA and the I.E. all Spring and Summer long.
As we prepare for the LA County Fair to open its doors from Aug. 30 – Sept. 22, we must also prepare to say goodbye to Food Truck Thursdays until next year! 🙁
We stopped by last week to see what was hip and happenin', and to see what people were eating!
The Taco Cartel gave us a classic bowl of Asada Fries, but with a twist! These asada fries, or as the Taco Cartel likes to call them, their AK-47 Fries, is loaded with grilled asada, cotija cheese, cilantro, mild green salsa and wait for it… two fried eggs!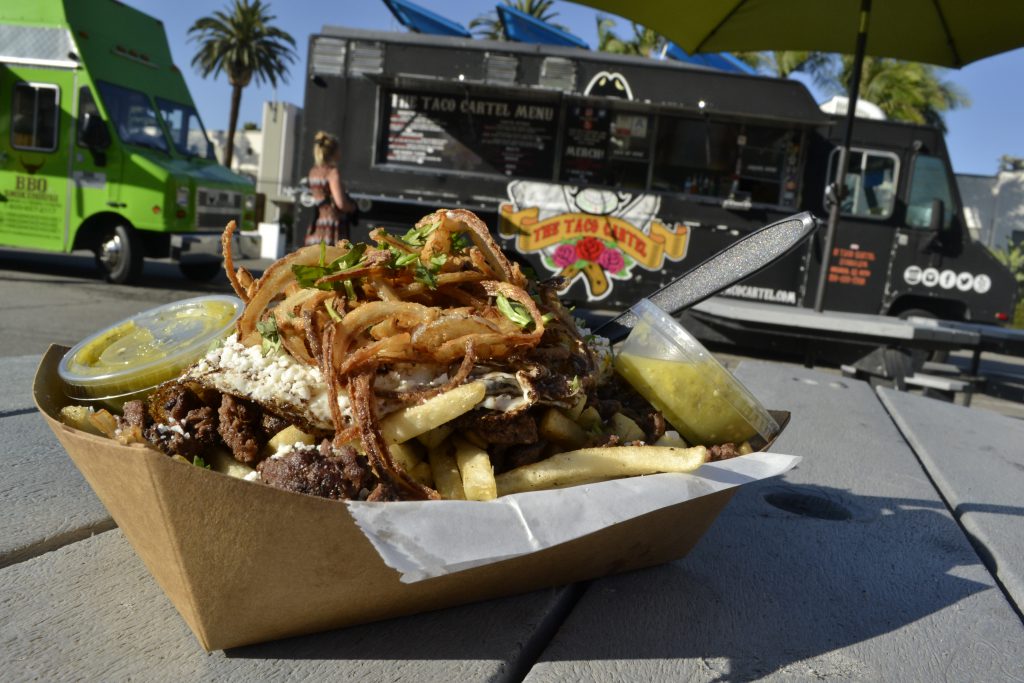 The original order comes with a creamy habanero dressing, but we replaced it with green salsa because not all of us are huge fans of spicy! #SorryNotSorry
Next, we went over to Swamis Sandwiches to try the Mother Clucker, a stacked spicy chicken sandwich!
The Mother Clucker is stacked with a juicy fried buffalo chicken patty, fresh coleslaw, huge garlic pickle slices. It's a great bite for someone to enjoy if they don't feel like sharing. The brioche bun is perfectly toasted and nicely balanced the crunchy ends of the friend chicken.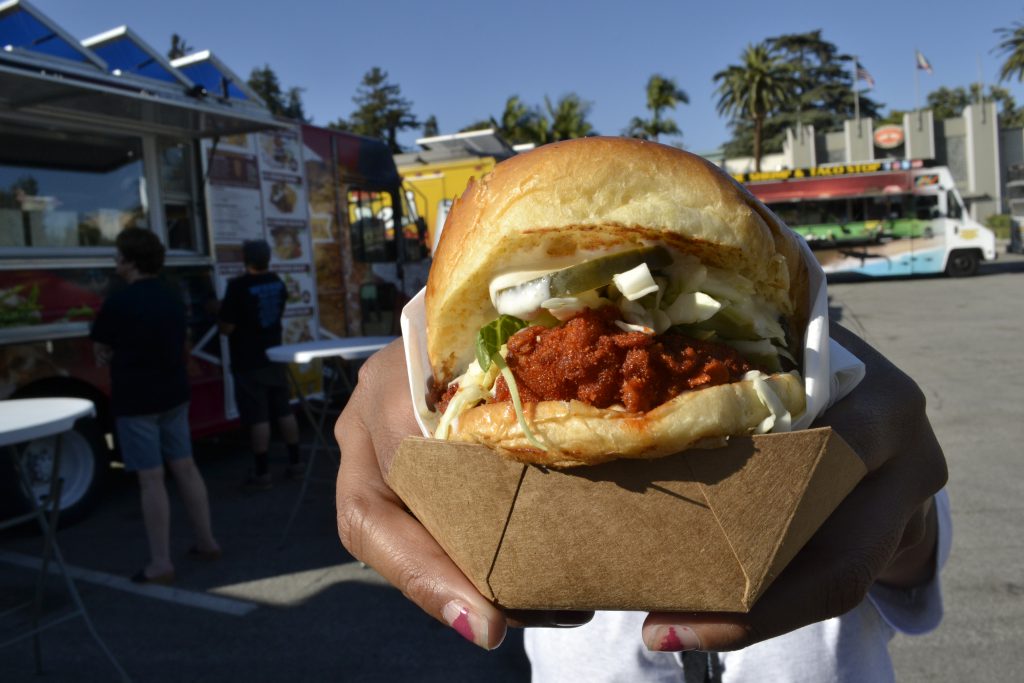 Last, but not least, we could not have ended the evening without grabbing some dessert!
We stopped by Crepes Bonaparte to grab a sweet treat before calling it a night. These crepes are huge and definitely a choice for two people, or one hungry individual with a sweet tooth!
We chose their HazelBerryAna crepe that is filled with fresh strawberries, sliced bananas and Nutella and is topped with whipped cream and a chocolate drizzle. This dish was both sweet and refreshing with the sliced fruit on the inside. It was a perfect end to a fun evening of trying different dished.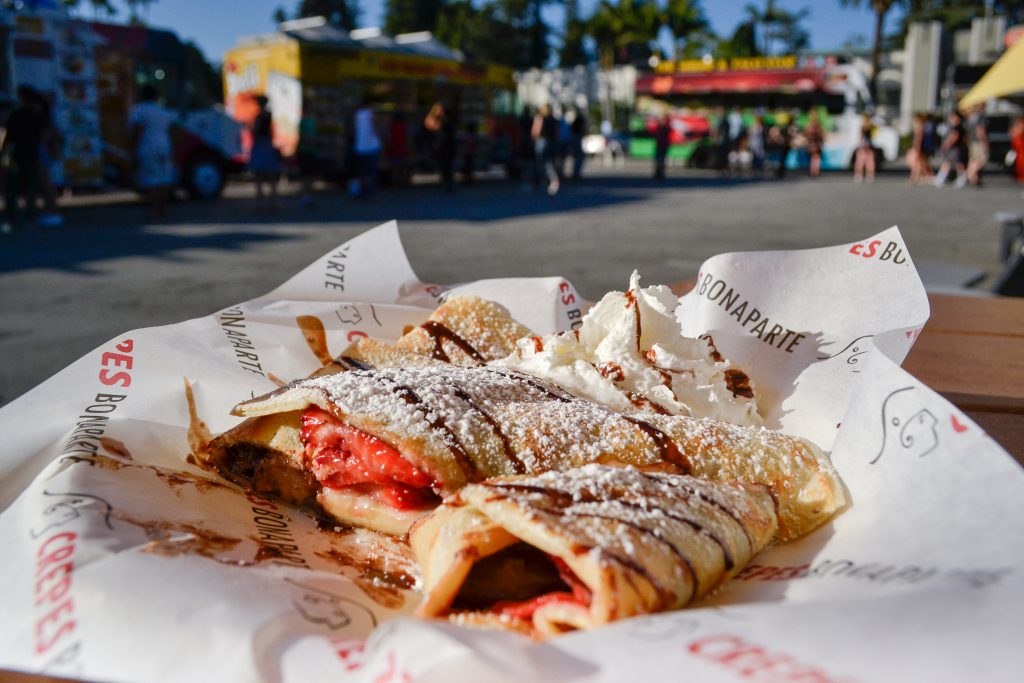 If you want an evening away from the kitchen to enjoy food truck dining, fresh air and music, Food Truck Thursdays is always the way to go. Our last Food truck Thursday will be August 15, 2019. So don't delay! Come next Thursday and come hungry!