One place we haven't had a chance to visit on the blog is the Millard Sheets Center for the Arts! This is a very important aspect of the Fair and celebrates the talents of the local artists and the creativity of our Fair guests.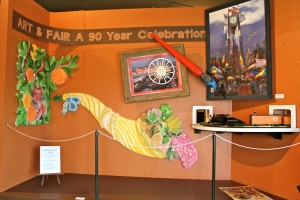 This year's theme, "Art & Fair: A 90 Year Celebration" features the stories behind the history of the Fair, from its beginnings as a marketing tool to sell California land, to the educational forum for the agricultural industry and finally the fast rides and exhibits the Fair is known for today. Some of my favorite exhibits included "California's Second Gold Rush: A Citrus Bonanza" which highlights the agricultural aspect of the Fair's history and "Famous Displays of the Past."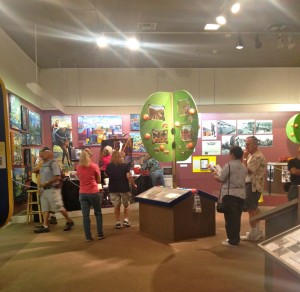 However, my favorite aspect of the entire center are the demonstrating artists found throughout the building. Local artists are able to set up shop and do what they love to do while guests look on. The variety of art is wonderful, from oil paintings to intricate wood carvings, brightly colored pointillism to colorful sand art, and jewelry and clothing design to watercolor works.


Lucien van Oosten, for example, specializes in stipple, silverpoint and pointillism art. When I visited him yesterday he was working on a beautiful pointillism piece. Pointillism is the technique of creating images where small, distinct dots of color applied in patterns to form an image. A Glendora local, Lucien turns his artwork into art cards.
Other artists displayed beautiful landscapes using acrylic, oil and watercolor paints, some showing pictures of the Fair and others depicting everything from forests in autumn to streams to waterfalls.
After enjoying the art of others, Fairguests have the opportunity to create art themselves. Artists of all ages are invited to visit the Art Workshop and add to the mosaic that can be seen along the wall. Workshops are also available for students to apply their own expression through a variety of artistic mediums.
For more information on the Millard Sheets Center for the Arts click here.