An artist's canvas can take many forms — take for example Sandra Heidlebaugh of Lakewood and Evelyn Young of West Covina, whose canvasses are actually dried gourds.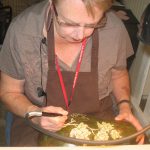 Both women have been demonstrating how to create gourd art in Tapestry, which is located in the Grandstand. 
Actually goard art is part carving, part painting to result in beautiful creations. As each gourd is one-of-a-kind and uniquely shaped, no two can be alike. 
The artist can cut, drill, carve, wood burn, paint, sand, stain, or finish gourds like wood. They can create original designs or work with stencils. 
And as with all creative projects, gourd art is relaxing.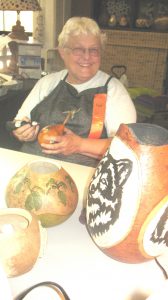 That's what Heidlebaugh discovered when she went on disability for an injury, saying it was "a saving grace." Though she's done quilting, oil painting and other arts, she's enjoyed the variety and versatility of gourd art. 
And watching Heidlebaugh and Young at work is relaxing, too, as they meticulously carve away layers of the gourd to later paint or stain or leave in its natural finish. 
"Anything you can do with wood — using a Dremel drill, wood burning, embossing, staining and painting — you can do with a gourd," she explained.