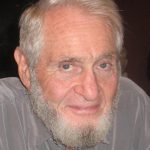 Sunday, Sept. 5 will be the first day anyone can get copies of a new book,
Exploring Forms by John Edward Svenson, an American Sculptor
. The artist will sign copies between 11 a.m. and 5 p.m. at the Millard Sheets Center for the Arts. He'll sign copies when he demonstrates woodcarving during the Fair – Sundays, Wednesdays and Fridays, 11 a.m.-5 p.m. Look for him in "Svenson's Corner" at MSCAF.

Svenson's
The Ranchero
stands at the entrance to MSCAF. He carved the sculpture out of a redwood tree in 1954 onsite at the Fair (see photo at right).
Photographer Gene Sasse will also be signing his books –
Maloof Beyond 90: An American Woodworker
and
Garden Thoughts: Quotes and Inspiration for the Gardener
on Sunday from 10 a.m. to 3 p.m.
While you're visiting MSCAF, don't miss art demonstrations by Elizabeth Carr (mixed media), Hillel Rzepka (hand-blown glass hearts), BJ Lane (oil painting), Marciano Martinez and Richard Martinez (watercolor), Osvaldo Orellana (wood sculptor), Dan and Dina Romero (metal sculpture), and Kazumi Svenson (glass beads).
This year's MSCAF exhibit,
From the Industrial Age to the Computer Age . . . Three Centuries of Artistic Innovation
shows how The Industrial Revolution changed not only how the world worked in agriculture, manufacturing and transport, but also affected everyday life and the arts. Find out more about the exhibit and MSCAF
here
.