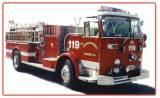 There is so much going on here. Come out and take it all in. Today, Thursday, is San Dimas Day, with tonight's entertainment an adrenaline-filled night with Monster Truck Madness.
Tomorrow it's Day for Heroes, a day when the Fair honors military, fire and law enforcement personnel. A special opening ceremony for Day for Heroes will take place at 11:45 a.m. at the Blue Gate Air Frame. Steve Wilkos, from the Steve Wilkos Show, will cut the ribbon.
Friday is also Pomona Day, always a special day for us since Pomona is our home. And tomorrow night's entertainment is Peter Frampton and Kansas.
Whew! Busy, busy.