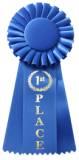 Have you sent in your entry form? What? You haven't? Well, hurry up! Several entry deadlines for contests at the Fair are looming. Whether you are 8 or 80, we have a contest for you.
America's Kids is themed Under the Sea – try the decorate a fish contest or the cupcake competition. Deadline is July 6 for your entry to be postmarked so get to it!
Culinary Styles has several different deadlines depending on if you are entering your preserves or best chocolate chip cookies. Check the Web page for more details.
Tapestry, the creative arts arm, has a July 9 deadline – that means now!
It's cool to win a blue ribbon. Don't let anyone tell you otherwise. Guys totally dig girls who win blue ribbons.