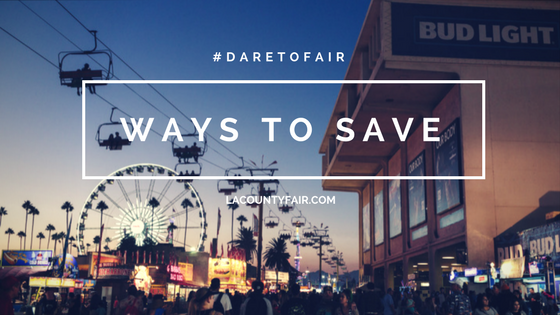 Carnival rides, deep-fried delicacies, parking… going to the Fair can get a little pricey, especially for guests bringing their families. That being said, we offer plenty of ways to save during your visit! Keep reading for the scoop:
Top 5 Ways to Save at the LA County Fair
1. Special offers: We offer single-day ticket and ride & game discounts every single day of the Fair! Thanks to partners like Cotsco, Cardenas Markets, Vons and Albertsons, we're able to provide discounted adult & child tickets, along with ride and game specials. Visit our Special Offers page for a full list of promotions for this year's Fair!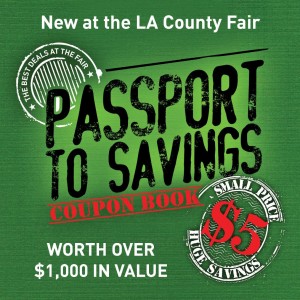 2. Passport to Savings: For the first time ever, we've partnered up with Passport to Savings to bring you a coupon book of over 100 offers on food, rides, games, shopping and more at this year's Fair!
The Passport to Savings coupon books are $5 each (maximum of 5 purchases per person) and are valued at more than $1,000 in savings per book.
Plus, each coupon book comes with a FREE week-day return admission ticket. Buy online, then redeem your voucher at the Passport to Savings booth located inside the Fairgrounds.

3. Transportation hacks: There is plenty of parking at the Fairgrounds, but there are other ways to get here too! Metrolink runs special weekend service trains to the Fair for just $10. On top of that, Metrolink riders can purchase single-day admission tickets for $12 (adult) and $6 (kids) with promo code Metrolink. The Metrolink trains will run on Labor Day as well. For details on the Metrolink LA County Fair schedule, click here.
For Fairgoers who live closer to us, consider taking Foothill Transit or a rideshare service like Lyft to get here. In fact, first-time Lyft users will get their first ride free (up to $20) using promo code LACF.

4. Bring your own snacks: Pack your own snacks and beverages! We allow coolers (12″ x 18″ max) into the Fairgrounds. Just remember, no glass containers or alcohol are allowed to be stored in these 🙂

5. Happy hour: For the 21+ crowd – we offer happy hour Wednesday – Friday every week of the Fair. Get $2 off fountain drinks, draft beer and margaritas at participating stands, 3 – 6 p.m.
BONUS: Our End of Summer Concert Series, presented by Toyota, includes 16 nights of shows, including rock, rap, hip hop and country acts (view the full lineup here.) On the day of each show, a select number of general admission tickets are given away for free at the ticket booth on Rose inside the Fairgrounds, beginning at 2 p.m. the day of the show. Tickets are given away on a first come, first serve basis.
We hope these tips will help you as you plan your visit to the 2017 LA County Fair! All of this information can be found at lacountyfair.com. See you soon — Dare to Fair!