Yes we are shamelessly addicted to Chicken Charlie's deep-fried bacon s'mores, and Tasti Chips doused in gooey cheese and sauce, but there are plenty of healthy (and delicious) Fair foods to try too! Here's a quick round-up of our go-to favorites:
Healthy Food at the LA County Fair
1. Vegan Jackfruit Tacos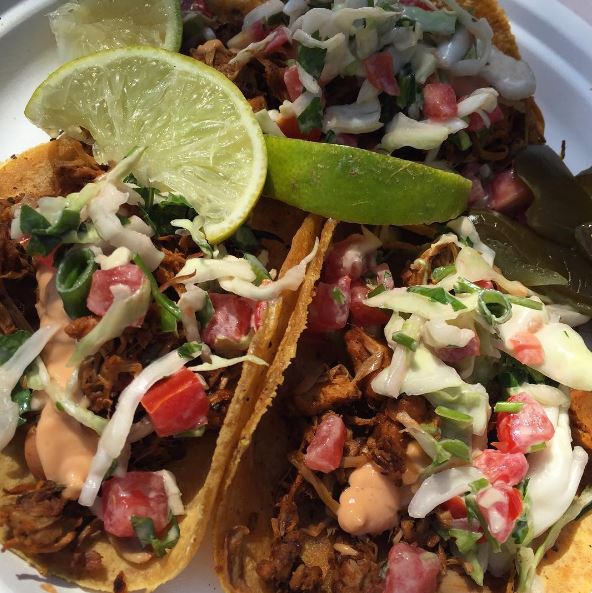 New this year, the Jackfruit Tacos (and nachos, tortas and bean bowls) are a must-try, whether you're vegan or not. Refreshing, filling and just the right size, this is a vegan favorite, both at the Fair and when they're out and about in Los Angeles.
2. Pappa's Artisanal Woodfired Pizzas (Yes, pizza!)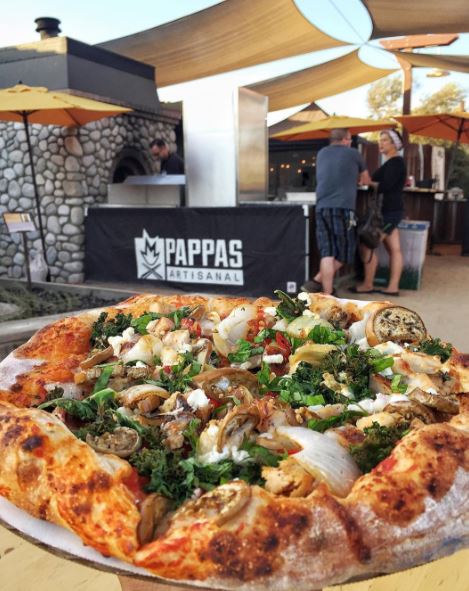 Local foodie favorite Pappa's has brought their kitchen to The Farm, whipping up delicious harvest bowls and wood-fired pizzas. Every day they select some of their ingredients straight from our Farm! It doesn't get much fresher than that.
3. Chicken Charlie's Maui Chicken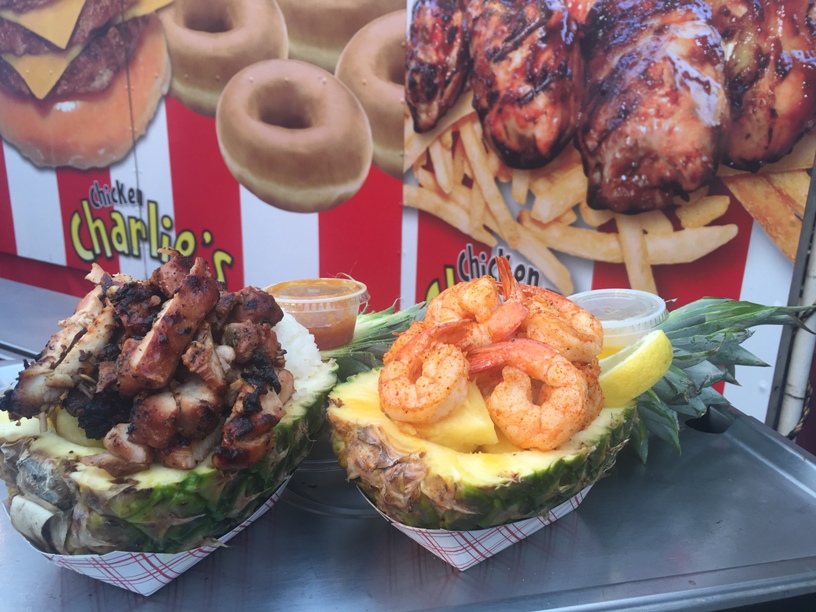 Chicken Charlie serves up a killer meal: grilled chicken, pineapple and rice, all arranged in a carved out pineapple shell. Might as well stock up on protein while you're indulging your sugary and savory Fair cravings, right? There is also a shrimp option if you prefer that.
Bonus: he also offer grilled chicken kabobs, hummus and pita bread 🙂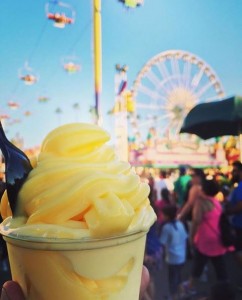 4. Cold Treats: Terri's Berries, AB Sorbet and Pineapple Dole Whip
Terri's Berries offers a variety of fruit smoothies, while AB Sorbet and the Mexican Funnel Cake stands offer gluten-free, vegan sweet treats for your enjoyment. You can find any and all of these stands using our Food Finder on our website!  
Coconut Water
Our giant coconut waters are a fan favorite! Not only are they full of electrolytes and totally hydrating, they're also delicious! Just a sip and you'll be craving the beaches of Hawaii.
While we are HUGE advocates of the deep-fried, battered, gooey, cheesy, decadent treats that the Fair has to offer, we highly recommend you try one of these healthy food items the next time you're here. Equally delicious, equally satisfying, but just a tad better for your body than all the rest of our treats.
For even more healthy options like wraps, salads and smoothies, check out our Food Finder at lacountyfair.com!