Have you ever been to a circus and wished you would have stayed home and watched a movie? Yeah, I know that feeling all too well!
Fortunately for you, the circus located on Juniper Street at our Fair has a lot of cool things to see and do. Gotta love the Farm! 🙂 🙂 🙂
Here is a rundown of what you could find at Esmeralda's Traveling Circus:
Camel rides – Most of us have seen and probably fed the camels at Mojo's Crazy & Wild Lagoon, but have you ever taken a ride on one of these creatures?  If your answer is a no, take a break from all of our deep-fried food and head to the Farm area!
The Conjurer – Need your fortune told? Come visit our Conjurer's fortune machine! P.S. Our fortune machine is not an actual machine – Conjurer is portrayed by a live character actor.

Mango & Dango – We love this theatrical circus duo's sense of humor and their specialized technical circus skills.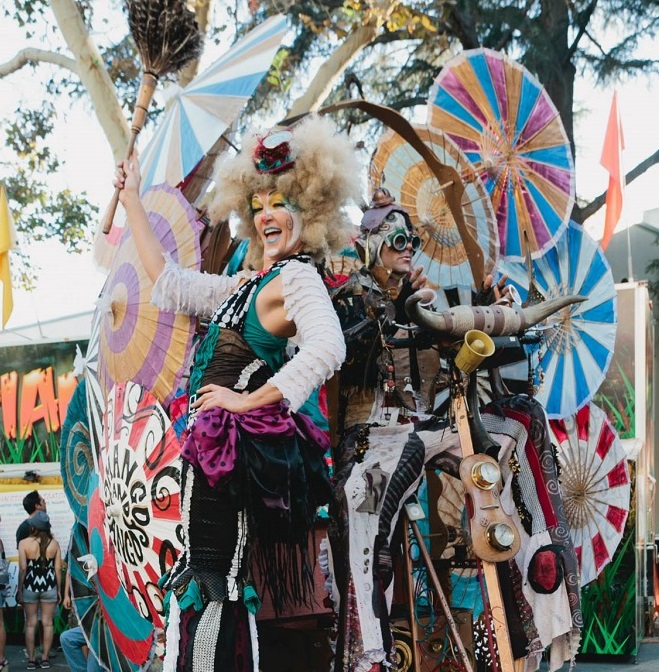 Venardo's Circus – Ringmasters, dancers, aerialists, jugglers and hand balancers all come together at this circus!
Tangled Threads: This dynamic duo will delight and amaze audiences everywhere through an ever-evolving repertoire that includes music, dance, stilt walking, juggling, clowning and much more.
Aerial Arts Circus Show:  Everyone loves a good act – especially if the aerial acrobats have mind-blowing and nail-biting mid-air tricks.

Now that you know more about Esmeralda's Traveling Circus here's your chance to enter our Blog Giveaway.
Esmeralda's Traveling Circus Giveaway
Four any-day admission tickets
Four RCS ride wristbands
1 Parking Pass
To enter our contest, leave a comment on this blog post telling us why you want to attend the Fair this year! Winner will be announced Sunday, Sept. 13 on this blog at 5 p.m. 
Good luck, everyone!
_____________________________________________
Congratulations to Claire Michelson for being selected as today's blog giveaway winner. Neither Claire nor her family have been to the Fair in the last 10 years, so we are glad to be welcoming them back.
A HUGE THANK YOU to everyone who played! A few minutes could win you big prizes, so make sure you like/follow us on Facebook, Twitter and Instagram for more contests and fun Fair photos/videos.