What's a Fair without a food-eating competition? Since Chicken Charlie debuted the Krispy Kreme cheeseburger this year, we thought it would be fun to have a little food eating competition among our Fairguests. That includes you.
We, the L.A. County Fair, challenge you to the Fair Food Frenzy competition to see who can eat a Krispy Kreme cheeseburger the fastest. Two glazed doughnuts. 2 slices of cheese. 2 burger patties. 1 winner.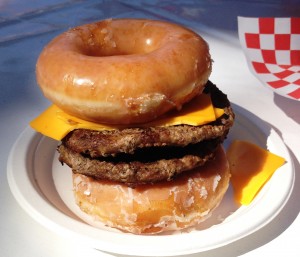 If you win, not only will you have the title of the 2013 Fair Food Master, you will receive a VIP Weekend for 2 at the Sheraton Fairplex Hotel. This includes a Club Level Suite, VIP welcome amenities, access to Club Level Lounge, breakfast for two and event appetizers in the club and a Farm-to-Table Dinner for two at McKinley's Restaurant.
Challenge accepted, Fair fans?
To enter, email your name, age, phone number and hometown to LAFairFoodFrenzy@gmail.com. Entrants must be age 18 or over and must be present at the Fair competition. The Fair Food Frenzy will be held on Fairgrounds at 1 p.m. on Friday, Sept. 27.
Fair contestants will have VIP parking and free entrance to the Fair.
Best of luck!