Our End of Summer Concert Series is known for having a diverse lineup. From country to classic rock, there's usually something for everyone.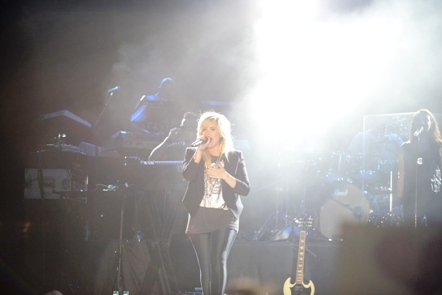 This year we had the pleasure of welcoming pop star Demi Lovato to the Fairgrounds for an evening performance worth remembering. Her powerhouse vocals had fans screaming (yes, literally screaming) in adoration.
She sang hits like "Heart Attack," "Made in the USA" and "Give Your Heart A Break," as well as popular favorites like "Don't Forget," and the inspirational "Skyscraper."

The Grandstand was absolutely PACKED from the very last row to the front of the house. It was incredible to see how excited all of Demi's loyal fans were. (We spotted quite a few look-a-likes from where we were standing!)
Her family was out in full-force to support her too! It was fun to see them being so supportive and excited for her performance.
As soon as the concert let out, guests flooded the carnival for a night of games, rides and food. Killer concert + late-night Fair fun? Couldn't have asked for a better Saturday night at the Fair.