Brazil has arrived at the Fair.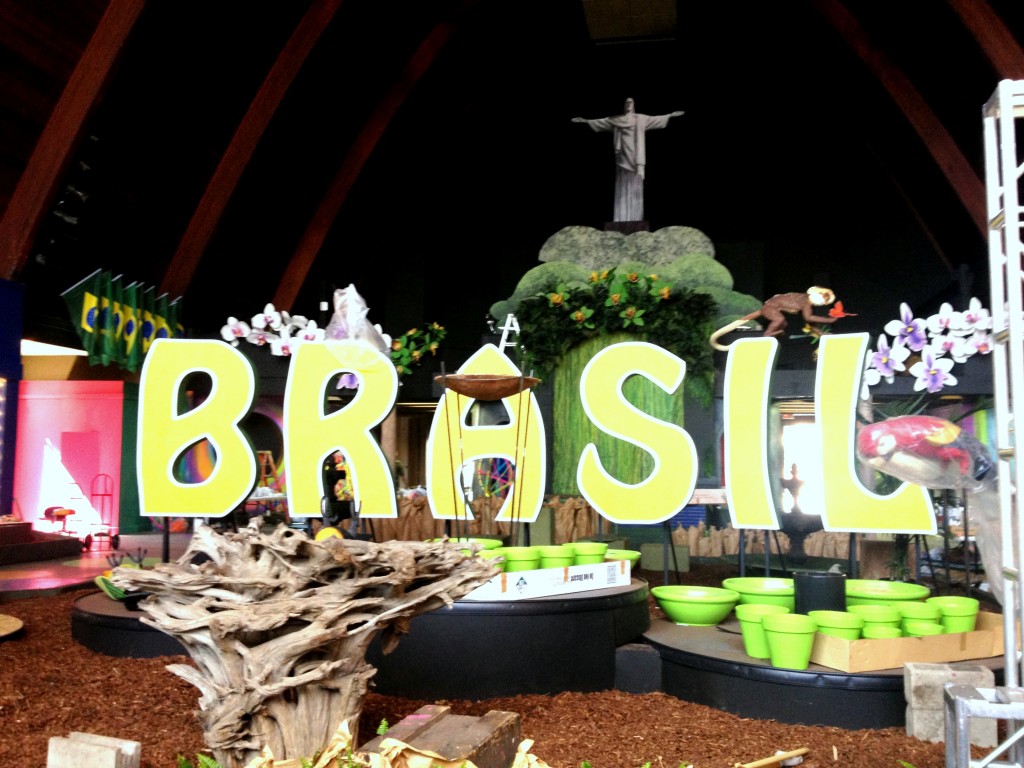 A sneak peek into the Flower & Garden Pavilion
The theme for the Flower & Garden Pavilion this year is Mysteries of the Amazon. All signs of London have been stripped away. Rose gardens and tea cups have been replaced with the lush greenery and colorful animals of Brazil.
I ran into Jim Hynd, our Floral Coordinator and he gave me the 411 on what's planned for the Flower & Garden Pavilion at this year's Fair.
The national flower of Brazil is the orchid. Dozens of orchids will be scattered throughout the exhibit as well as beautifully sculpted versions of the flower.
More than 60 varieties of plants will be featured. Although none of our plants are grown in Brazil, many of them originated from there.
As a salute to Dia de los Muertos (Day of the Dead), a special section will feature the Brazilian version of the holiday — Dia de Finados. Brazilians go to cemeteries where they've buried loved ones and take flowers, light candles and pray for the souls of those who have departed. Our own display will consist of 12 foam skulls decorated in all natural materials, similar to the detailed sculptures made for the rose parade. The skull symbolizes birth and is an important symbol of this holiday.
Each skull is made of a specific material, displayed in various textures, colors and size. Jim showed me the "skulls" made from corn and from cones: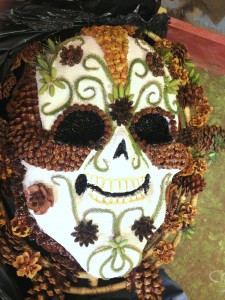 Skull made entirely of cones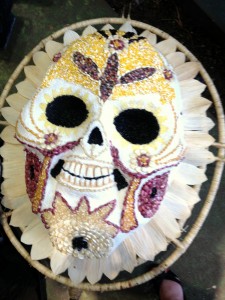 Skull made out of corn materials
 Other elements include Carnival in Real, Rio de Janeiro, water features and a special tribute to the music of Brazil. A portrait of Carmen Miranda will be featured …
All of the music in the pavilion will be various versions of the song Brazil. There will be 50 different versions of the song playing, from artists like Frank Sinatra and many instrumental versions. "It's such a catchy tune," Jim said. "It will make guests want to dance on the spot."
We can't wait to see the final product! A special thank-you to Jim for showing me around and teaching me a bit about the culture of Brazil! Have you ever visited Brazil? What are you most excited to see at the Fair?
Let us know in the comment section below!