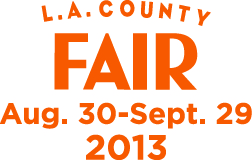 I can't believe it. We are less than two months away from the 2013 L.A. County Fair! It seems like just yesterday that we were giving away blog tees and expounding on the joys of deep-fried calories treats and the fun of food contests, rides and shows…
We are excited to show you all we have planned for this year's Fair. Stay tuned for announcements on our End of Summer Concert Series lineup, our new exhibits and of course, Chicken Charlie and his latest invention.
Don't forget to like us on Facebook at www.facebook.com/lacountyfair and on Twitter (@lacountyfair) for more updates.