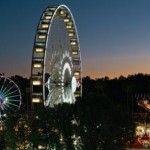 And so we end another Fair….and a great one it was! Thank you all for coming to our party. We enjoyed having you. What a way to celebrate our 90th anniversary! Here are some take-aways from this year:
1,473,371 guests – and you were one of them! It was our fourth biggest Fair ever.
Food & shopping continued to be the two biggest reasons for coming to the Fair.
Guest satisfaction was the highest ever
Guests donated more than 110,000 cans of non-perishable food to Helping Hands, Caring Hearts Ministry, Foothill Family Shelter, Caring for the Hills, Inland Valley Hope Partners and the Los Angeles Regional Food Bank in exchange for free admission
In honor of 9/11, the Fair donated more than $9,300 in proceeds from the Weekend for Heroes promotion to the Los Angeles Fire Department Foundation
City of Hope, Cedars-Sinai, American Red Cross, Huntington Hospital and Presbyterian Intercommunity Hospital held blood drives resulting in 734 pints of blood donated
Guests donated more than 16,000 books, 13,000 school supplies, 300 shoes and 2,400 pairs of socks to local charities in exchange for free admission
More than 140,000 students and teachers experienced the Fair educational exhibits through the FairKids Field Trip program at no charge
The Fair honored 17 communities and 31 community heroes on their dedicated days
Local universities also benefitted from special promotions and dedicated days with more than 10,000 discount redemptions
You helped make all this happen -so thanks again. Thanks, too, for reading Hot Blog on a Stick. We had a ton of fun giving away tickets and T-shirts. Keep reading us and pencil in the Fair for next year, Aug. 30-Sept. 29.