Calling the U L T I M A T E Fair Fans
The Fairy Blogster is all about making her blog readers' dreams come true and I, as a Fair to Remember, am happy to help make that happen! We decided it might be fun to give goodies away every day of the Fair!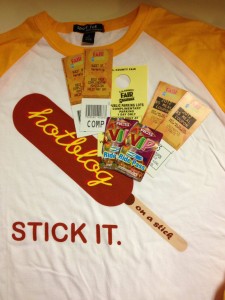 Starting today, we will be doing a daily giveaway/contest with prizes including:
Two free admission tickets per winner
Two free ride passes
Food bucks for the Fair
Hot Blog On A Stick tees 
Really, we just want to hook you up with a fun-filled day (or evening!) at the L.A. County Fair and thank you for your support and readership. (We really appreciate each and every one of you!)
Make sure to check back here often for the daily giveaways–you never know whether you'll need to answer some Fair trivia, give us your take on something or guess a photo!
Check back here later today for Daily Giveaway #1 🙂
Here we go!