Welcome Stephanie Sanders, our summer intern, who's blogging today:
The Los Angeles area is inundated with staycation possibilities; how are you supposed to choose?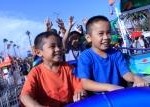 Well it's quite simple really: come to the L.A.  County Fair. If I could just leave that statement above sitting by its lonesome and still get you to come to the Fair, I totally would! However, many of you may be looking for some type of validation for my attempt to brainwash you (just kidding) into coming to the largest county fair in the world. For the most apprehensive blog reader, here's my response to the challenge.
It's economical. Let's be honest: we're all trying to get the most bang for our buck. There's nothing wrong with that. During the week, a family of four (2 adults, 2 children aged 6-12) can gain admission to the Fair for – wait for it – $38! And this is without the tons of promotions that we have going on nearly every day! 
But there's more. For this $38 you are not just entering the Fair. You're gaining access to myriad attractions, games, adventures and memories. You can go see one of our headliners at the End of the Summer Concert Series presented by Toyota, scream your head off on one of our terrifyingly fun rides or try your hand at a tantalizing carnival game (You can do it!).
This wouldn't be a staycation without a little relaxation would it? Don't worry, we've got you covered. Are you the outdoorsy type? Grizzly Falls in Wilderness Ridge features a waterfall and beautiful scenery where our adorable bears enjoy some playtime. How about a beachgoer? Stingray Island brings the beauty of marine life to mainland. Complete with a boardwalk, an 8' waterfall and 17,000 gallons of water, could an island paradise be any more beautiful?
Perhaps you're a world traveler. Look no further! The beloved Mojo returns this year and she's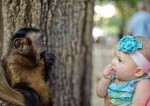 taking us on an African safari trip that won't be forgotten! Zebras, monkeys, serpents and exotic birds are all a part of this exotic adventure.
Release your inner anglophile as you meander around a garden that rivals that of Buckingham Palace in our Flower & Garden Pavilion. Experience British flora first hand and take in the beautiful colors that make this attraction the memorable (and relaxing, of course) experience that it is.
Whew. I feel like I could go on forever! I hope you now see why the L.A. County Fair is the place to be this fall. Help us celebrate our 90th year of fun! The Fair is in town from August 31-September 30. See you there!