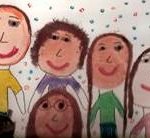 OK all you 18 years and younger artists, crafters, bakers, inventors and creators: you have less than two weeks to get your entry forms in for the L.A. County Fair's America's Kids' competitions. Hurry now! We're using snail mail and all entries must be postmarked on or before June 28. You know you want to win a blue ribbon!
If you haven't decided what to enter, visit the competitions page at lacountyfair.com and check out the list of all the contests and competitions featured in America's Kids. Only entry forms need to be in on or by June 28. Entry drop-off is July 21 for most contests. Some entries, like cakes for the creative cake competition, need to be dropped off the day of the respective contest so make sure you carefully read the rules for each contest you enter.
America's Kids' theme is A Living Library of Fun so most of the contests have a book or character  theme. Here are some of the ones I think sound cool:
Mystical, Magical Wizard Wands or Hats – inspired by Harry Potter of course, you get to decorate your own hat or wand. My hat, the one I wear when I'm blogging, has little Crookshanks all around the brim. You know, cuz I love cats.
Build a Tree House – if you are a fan of Jack and Annie and the Magic Tree House series, well, you've got this one.
Mythical Creature Creation – make a model of your favorite mythical creature. Yes, even a gnome. Although gnomes creep me out. My biggest fear is seeing that travel site gnome at the edge of my desk or outside my front door. Holy cow.
Family Recycled Robots – this one is for the whole family. Watched it live at last year's Fair. Was great fun and the creativity rocked. Make a robot out of all-things recycled.
Family Talent Show – C'mon. A family sing of "Do-Re-Mi"? Or go fun retro and so something from the Jackson 5. Saw two sisters sing "Popular" from Wicked. Suuuuperb.
These are just a handful of the contests. So, hurry! Time's running out. June 28!