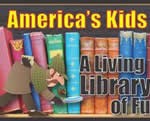 And cookies, and collages, and wands, and hats – everything you can create for the America's Kids' contests and competitions. Entries are open for all categories, so start planning on winning a blue ribbon. America's Kids' theme for 2012 is "A Living Library of Fun." It's all about books and favorite stories. So whether you love to read or are just learning to read, America's Kids is the place you'll want to visit again and again at this year's L.A. County Fair.
All contests and competitions are based on children's books, authors, characters and themes in books. Categories are open to ages 3-18. There are so many fun and creative categories to enter, how will you choose? Maybe you'll have to enter into them all.
These are just a few of the great categories:
Mystical, Magical Wizard Wands or Wizard Hats
Inspired by Harry Potter and other fantasy stories, make your own wizard wand or hat…or both!
Build a Tree House
Design and build your own miniature tree house and you can start imagining your own adventures just like Jack and Annie from the Magic Tree House book series.
Creative Cake
Decorate a cake using any literature-inspired theme. Some ideas: books, book characters, famous fictional settings, etc….you decide!
Recycled Robots
This was popular last year. Families build robots from recyclable material.
"Sew" Exciting: A Living Library of Fun
Sew something creative like sock book worms, magical capes and cloaks, or Ms.Frizzle-inspired fashions
Funny Vampire Vagabonds
In the Twilight books, the main vampires live in the forests of the Pacific Northwest. In other books, vampires live in castles, caves, etc. Since they aren't real, our little vampire can live or travel anywhere you want him to. Print out our vampire and create an environment just for him.
Like I said, this is a brief list of the many contests and competitions (btw, did you know that contests take place during the Fair and are judged on site and competitions include entries that are judged pre-Fair and awarded ribbons so you can see what you won when you visit the Fair? Got that? Confused? Me, too). There is also a special contest celebrating the 100th anniversary of the Girl Scouts. Deadline to send in your entry form is June 28.
So, visit the America's Kids homepage to find a complete list of categories. Can't wait to see all of your great, creative work!