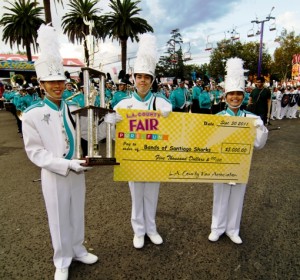 I love a parade. Especially ones that involve the precision and artistry of marching bands. Yesterday, the L.A. County Fair's Marching Band Parade Competition held its finals. In their first appearance in the competition, the Santiago High School Sharks from Corona won first place. The Sharks, also known as "The Boss," took home the $5,000 grand prize, a trophy and earned a spot to march in the 2013 Tournament of Roses Parade. Tears of joy were shed by many in the band as they were overwhelmed by the announcement.
Taking home second place, a trophy and $3,000 is the King High School Kingsmen of Riverside. This is also their first Fair competition.
In third place, winning a trophy and $2,000 is Kaiser High School's Catamont Pride Band and Pageantry of Fontana. This is the fifth time that Kaiser has placed in the Fair's competition.
The finalist bands were three of 34 bands that played in the competition this year. Los Angeles, Riverside and San Bernardino County were all represented and 28 cities in total participated. The awards were announced by the 2013 President of the Tournament of Roses Parade Sally Bixby.
Congrats to the winners and all the participants who made this a very competitive year!