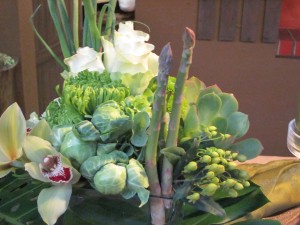 Asparagus. Brussels sprouts. Green onions. Artichokes. These are not ingredients to a delicious salad, rather a beautiful floral arrangement. Dee Yeager, master floral designer, showed guests in the Flower and Garden Pavilion atrium how they could make a beautiful, monochromatic display using some non-traditional elements.
To start arranging, Dee used a floral block by Oasis that she had already soaked. The block is "green" in another way—it's biodegradable. She wrapped the block in tea leaf so you didn't see "the inner workings" as she called it. They were placed in a square, clear glass vase.
Next she went to town trimming, stripping and grouping her flowers. Each was bunched together by kind and she used the different heights and textures to add interest. Dee recommends grouping in odd numbers as it's pleasing to the eye.
Here are all the flowers she used in her arrangements:
-bells of Ireland
-roses (stripped of thorns and foliage, trimmed)
-carnations
-orchids
-seed eucalyptus (stripped of most of the foliage)
-Fuji mums
-Brussels sprouts
-coffee berry (not actually related to coffee)
To dress up the table she used lighting at different heights, draped fabrics and artichokes, which you can open up and stick a votive in. Everyone in the audience was impressed by the display—with many taking photos so they could replicate at home.
The Flower and Garden Pavilion is host to daily floral instructional demonstrations in the atrium. Check the daily fun guide for times and topics. Dee also noted that most of the flowers in the Pavilion go on sale the day after the Fair. The sale is open to the general public.