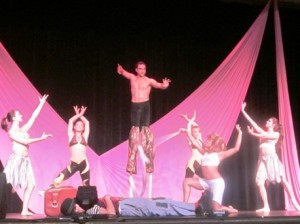 Have you ever wondered what mimes dream about? Striped shirts? Bowler hats? Suspenders? Well, you'd be wrong. Apparently mimes dream about crazy acrobatics and dance moves.
At the Dream World Cirque Show, we are first introduced to our friend the charming mime before the show truly starts. He comes out to the audience and does your standard mime routine and tricks—juggling, hats that won't stay on, etc. The kids love it! Well, all this tuckers out our friend and he decides to take a little nap on the streets of Paris. We soon discover his dreams are filled with a French cirque troop. There's a guy on stilts, ribbon dances, a contortionist, unicycle riding and the end number—a Bollywood dance.
From the smiles on the faces of kids of all ages in the audience, the show really does take you to another world (you completely forget that there are rows of vendor stalls behind you). Check out Dream World Cirque on the Building 4 Stage and Under the Big Top Stage, performing daily.