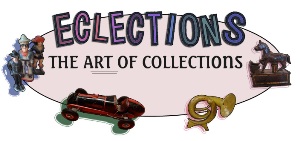 Remember that Troll Doll collection you had growing up? Or maybe it was Beanie Babies in the 90s. Yeah, this isn't really like that. The art of collecting is on display at this year's Fair. In the Millard Sheets Center for the Arts, guests can check out (for free with admission!) an exhibit unlike any other—Eclections. The Center features "eclectic collections" from enthusiastic collectors from all over the country. Journey through the historical, creative, artistic and practical applications of each collection.
Examples of the collections include:
* Nostalgic neon signage from all over Los Angeles.
* Miniature architectural models that were built for well-known buildings from around the world will be on display.
* Model railroad engines and railway cars that will take you back to a time to your youth.
* Antique button collections. From the uniforms of soldiers, police officers and other civil servants, each reminds us how much these individuals have touched so many lives over the decades.
* Artworks and crafts designed for everyday use tell their story as a single piece and what they symbolize when they are put together as an eclection.
Guests will not only view collections large and small, but they will also have the opportunity to watch and learn from demonstrating artists working in similar media to each collection. The exhibit will also include docent and audio tours, a professional storyteller, educational workshops and hands-on activities that will examine how historical collections have modern day applications.
To find out more visit www.fairplex.com/fp/Foundations/MillardSheets.
Think you know your collectors? Name the Academy Award winner and Academy Award nominee who both collect Norman Rockwell paintings. The first person to guess both correctly wins two tickets to the Fair!