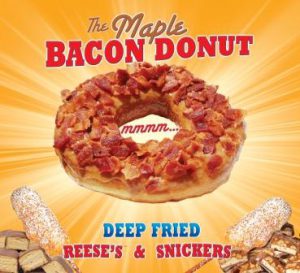 We took a poll on what is the best Fair food, which I am presenting here. Who did we survey, you ask? Why, the experts, of course! And by experts I mean those of us who work here. We are here practically 24/7 for an entire month, so if anyone knows the best grub, we do. Without further ado, I present the Top Fair Food According to The Experts aka Fair Employees (when you get to Hot Dog on a Stick, you know who voted for that one!):
Deep Fried Oreos
TastiChips
Indian Fry Bread
King Taco
Ten Pound Buns
Hot Dog on a Stick
The new Maple Bacon Doughnut
Dr. Bob's Ice Cream
Blooming Onion
BBQ from Chuckwagon
Maria's Italian Kitchen
Candied Pecans
Funnel Cake
Gingerbread Treats
The new Cardinali WoodFire Pizza
Pink's Hot Dogs
P-Nuttles
Mackinac Island Fudge
Fresh Fruit from Terry's Berries
Warm Cinnamon Rolls
Fresh Grilled Corn on the Cob
Whew, what a list we came up with!  You'll need to make more than just one trip to try all these yummy goodies!  Curious if we have YOUR favorite food?  Check out our food finder! Or drop us a comment and let us know what you can't wait to sink your teeth into!