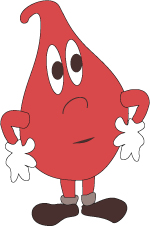 For the fourth year, the L.A. County Fair is teaming up with the American Red Cross to help save lives. We are holding two blood drives, Aug. 17 and Sept. 12 at the Sheraton Fairplex Hotel. Give us a pint, and we'll give you a free any-day ticket to the Fair! Sounds like a good deal, right? You get to relax on a comfortable table while the ARC vampires (I mean that lovingly and sanguinely!) take some blood. Then you can visit the Fair, for free, from Sept. 3 – Oct. 2 and ride the Ferris wheel, try the new deep-fried Kool Aid and shop til you drop.
So, you get to go to the Fair but what happens to that pint of blood? After it is donated, the blood is processed, tested, stored then distributed to hospitals 24/7 as needed. One pint of blood can save up to three lives. Isn't that amazing?! See what you are doing by giving just one pint? Here are some other fascinating blood facts:
•Every two seconds someone in the U.S. needs blood.
•More than 38,000 blood donations are needed every day.
•The blood used in an emergency is already on the shelves before the event occurs.
•A single car accident victim can require as many as 100 pints of blood.
•Blood cannot be manufactured – it can only come from generous donors.
•Donating blood is a safe process. A sterile needle is used only once for each donor and then discarded.
•Blood donation is a simple four-step process: registration, medical history and mini-physical, donation and refreshments.
•The actual blood donation typically takes less than 10-12 minutes. The entire process, from the time you arrive to the time you leave, takes about an hour and 15 min.
Earlier this month, the Red Cross issued a nation-wide appeal for blood donors to roll up a sleeve and address a critical shortage across the nation. Many donors are busy or traveling, school is out of session and donations have dropped dramatically. In May and June, while demand for blood products remained steady, donations were at the lowest level the Red Cross has seen during this

timeframe in more than a dozen years. Because of that, the Red Cross needs blood donors now more than ever. All types are needed, but especially O negative, which can be used to treat any patient.
So, what are you waiting for? Roll up that sleeve and head to one of our blood drives. Once again, the Aug. 17 and Sept. 12 drives are at the Sheraton Fairplex Hotel, right here on the grounds of the Fair. Register online right here. Enter the sponsor code fairmckinley and follow the directions. Tell a friend to go to www.givelife.org, click on "make a blood donation appointment" and enter the code fairmckinley.
The Fairey Blogster and my friend above, Buddy the Blooddrop, thank you!