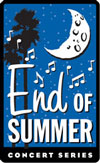 If you are a fan of the L.A. County Fair's End of Summer Concert Series, then you better sign up now for the EOSCS Club. Members get advance notification of the lineup and first crack at tickets. Membership is only $15 (and you get an EOSCS T-shirt).
New this year, the Club will be announcing dates and ticket sales by genre. Roll out will go accordingly:
Classic Rock: June 20
Motorsports: June 22
Country: June 24
Pop: June 27
R & B: June 29
Latin: June 30
All Shows: July 7
If you've been, you know we have a great time during our concerts. Last year, Bad Company was amazing! So was Selena Gomez and The Scene. If you've never been to one of our concerts, make this year the year to go. I can't tell you who will be here just yet, but I can tell you you'll be mighty excited!
Fair dates are Sept. 3 – Oct. 2. As always, we plan for you to have Pure. Fun.