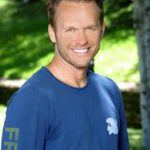 Bob Harper, host and trainer on NBC's "The Biggest Loser," will make a special appearance Saturday at the Fair. He'll be meeting fans and signing autographs from 10 a.m.-2 p.m. as part of Anthem Blue Cross's "Health Footprint" event that continues through Sunday at Yellow Gate.
You can get your own "health footprint," the health influence you have on those around you. Anthem developed the innovative health footprint to help people get healthy, stay healthy and have a healthier impact on their family and friends.
In addition to the health footprint, you can get free health screenings, participate in activities at various booths, collect stamps for the calories burned during those activities to donate in an effort to benefit the Boys & Girls Clubs of America.
At the Wii Tent, you'll learn how to play various fitness activities available on the game system.
Get your picture take at the Barbell Photo Op.
Watch a one-of-a-kind, four-way ping pong match that has both high-speed action and exercise.
Children can create their own "healthy eating" placement at the Kids' Fun Zone, as well as guess the fruits and vegetables in special shadow boxes.