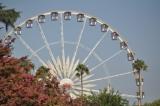 My fellow Fair lovers, today begins the last week of the 2010 L.A. County Fair. You have five days left to try the best deep-fried food in the world, shop for items you can't find anywhere else and pet the cutest farm animals this side of, well, a farm! And we have some great ways to save on admission.
You can still get out here today and save. It's Senior Wednesday. Guests ages 60+ get in for $6. Today through Friday it's $5 after 5 p.m. Get in for $5 with a coupon from lacountyfair.com. It's also McDonald's Wednesday. You still have time to get to a McDonald's, grab a coupon and get to the Fair for $20, which includes an unlimited ride wristband!
Don't forget Ralphs Food Drive Friday. This is the last one til next year. Bring in five cans of Ralphs private label canned goods and get into the Fair free!
LIVESTRONG Day is Saturday. Oct. 2 is an annual global day of action to celebrate survivorship and work toward the goal of a world without cancer. The Fair is offering $10 admission with coupon.  The first 5,000 guests using the coupon will receive a LIVESTRONG wristband and for every LIVESTRONG admission, Fair will donate $1 to LIVESTRONG.
San Bernardino County Day is Oct. 3. County employees, family and friends get in for $5 with a coupon.
And everyone can go to Ralphs and buy tickets for $10, good any day, any time!
So, what are you waiting for? Get your tickets. See you here.