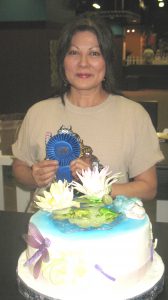 A little bit Martha Stewart Weddings met the Ace of Cakes Saturday at the Perfect Reception Cake contest at Culinary Styles.
The beautifully decorated cakes transcended baked goods into bonafide sculptural art work that should never be sliced and served.
Virginia Ishida of Monterey Park won First Place with her creation was titled "Finding Love at the Pond" decorated by fully edible water lilies, frogs, and dragon flies (with delicate gelatin wings).
Rosemary Quintanar of West Covina won Second Place with a wedding cake topped by a bouquet of fondant flowers in autumnal burgandies and golds.
Jolene S. Smith of Torrance won Third Place with a chocolate cake covered in chocolate fondant accented by pink flowers with silver sugar pearls and sprinkled with silver sugar dust.