The Millard Sheets Center for the Arts at Fairplex has become a storytellers central of sorts as each shares tales behind the exhibit The Industrial Age to the Computer Age …Three Centuries of Artistic Innovations.
Not only does the show trace how the Industrial Revolution affected society, storytellers present first-person accounts of how men, women, children and families were touched by innovations.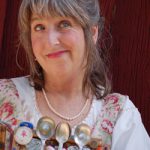 One of those stories is about the Bread and Roses Strike in 1912 at a textile mill in Lawrence, Massachusetts. Storyteller Angela Lloyd recounts the events that took place almost 100 years ago at 12:45, 1:45, 3:30 and 4:30 p.m. today.
"When Jim Cogan sent the topic of the show to me, I learned that part of the exhibit includes several weaving looms. When I saw the looms, I knew I wanted to tell this story," Lloyd recalled. "I had developed a story about it for a women's history conference several years ago."
The term "Bread and Roses" came from a poem by James Oppenheimer, a witness to the strike, who saw the woman carrying a sign saying "We want bread, and roses, too!"
In her performance, Lloyd sings a version of the song inspired by Oppenheimer's lyrics that sister singers Mimi Fariña and Joan Baez popularized that tells about the strike.
"The women wanted to reduce their work hours per week from 56 to 54," Lloyd said. "That was accomplished; when the mill owners decided to cut their pay by 30 cents a week, they had had enough, already going hungry before the pay cut.
"The owners of the mills never thought they would have a successful walk-out because of the many languages the workers spoke. But the IWW sent in men and women who spoke two or three languages and they worked to connect the dots," she continued. "The workers were on strike for 10 weeks, and they won."
Lloyd, a Victorville resident, brings more than 23 years of storytelling experience to Sheets, and has been called "a combination of Maria Von Trapp, Mary Poppins, and Tinkerbell." She possesses a vast repertoire of story, song, poetry and chant, and enjoys teaching and sharing music and stories to grownups and children in classrooms and performances.
From 1999-2007 she was the storyteller in residence at the Walden School in Pasadena, and is now resident storyteller at Children's Community School in Van Nuys.