Not only does the exhibit at the Millard Sheets Center for the Arts at Fairplex transport Fairguests back to the dawn of the Industrial Revolution, it also brings to life the people behind those photos on the walls. From the Industrial Age to the Computer Age . . . Three Centuries of Artistic Innovation shows how the Industrial Revolution changed not only how the world worked in agriculture, manufacturing and transport, but also affected everyday life and the arts.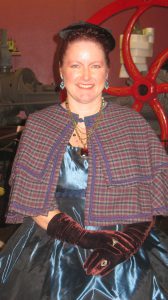 Take for example Emily Warren Roebling, the woman who built the Brooklyn Bridge (a photo of which hangs in the timeline display at the beginning of the exhibit). She was the first woman field engineer, who carried out her husband's instructions for the bridge's construction because he was incapacitated by "the bends" – the decompression sickness suffered by divers.
Roebling's story is one of will power, fortitude and bravery inspiring young and old alike thanks to the talents of actor Brenna Kelly of Pomona. She captures the imaginations of school children participating in FairKids Discovery Club field trips each weekday before the Fair opens (and entertains Fairguests weekdays from 1-3 p.m. and weekends from 11 a.m.-6 p.m.).
"I'm creating a memory as a person, that's how I get their attention," she explains of her Fair audiences. "As Roebling I tell them, 'If I can do it, you can do it.'"
The same fiery determination Roebling exhibited comes through Kelly as she discusses goals for her presentations at Sheets. She also portrays an anti-technology Luddite bent on destroying a factory and a textile mill worker whose daughter (portrayed by Kelly's own 12-year-old Monet) works beside her as "the bobbin girl."
Kelly taught beginning comedy at the Improv Comedy Club in Ontario and Irvine, where she discovered her true passion to help people of any age cultivate their authentic voice and share their unique perspective with confidence and ease. She is the founder of Conspire to Inspire Theatre Arts Program in Claremont and Pomona.
"It's all about the connection," Kelly explains. "Every time I have an audience – one or 1,000 – one can feel the energy exchange. I don't merely present, I have a conversation with the audience, more like a soul conversation."
MSCAF is supported, in part, by the Los Angeles County Board of Supervisors through the Los Angeles County Arts Commission.