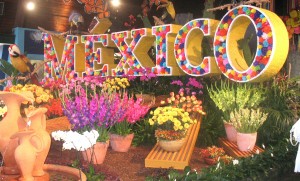 Mexico marks its 200th anniversary of independence from Spanish rule on Sept. 16 and with so many ways to celebrate here at the Fair, you'll surely say Olé!
Revel in the sheer beauty and color of Mexico at the beautiful Flower & Garden Pavilion. The country's colorful culture blooms forth below the huge "MEXICO" banner of flowers at the center of the pavilion. Learn about the many cultures, colors, customs and scenic beauty of this great region. Members of the American Institute of Floral Designers have interpreted Mexico's rich history since independence, its tantalizing foods, colorful arts, holiday traditions and more in displays arrayed around the room.
Head over to FairView Farms where Western Days & Rodeo Nights is being presented by Disney's Secretariat. Mexican rodeo traditions will be shared by Escaramuzas La Potosina, a women's Mexican equine drill team whose members ride sidesaddle to perform difficult maneuvers and exciting riding patterns choreographed to Mariachi music. See them perform on Sept. 17 at  8:30 p.m.; Sept. 18 at 1, 3:30 and 7 p.m.; Sept. 19 at 1, 4:30 and 7 p.m.
The Mexican Federation-Mexican Rodeo will perform reining, sliding and the famous Paso de Muerto (passage of death) maneuver when a rider jumps from one horse to another mid-ride! Their demos and competitions will be Sept. 19 and 26 from 7-10 p.m.
What holiday weekend would be complete without some music and La Internacional Sonora Show is ready to entertain audiences Sept. 17-18 in  Plaza de las Américas, which is co-presented by Bud Light and La Opinión. The band's vibrating and explosive sound have generated red-hot hits that have become chart-toppers over and over again in a wide variety of popular Latin music.