We had very special guests yesterday to kick off the Weekend for Heroes here at the Fair. Actors Bryan Anderson and Max Martini, along with talk show host Steve Wilkos started the celebration with a parade and meet-and-greets at Blue Gate Air Frame. And admission is only a $1 for all active and retired military, reserves, police, fire and paramedics, and $1 for one guest this weekend.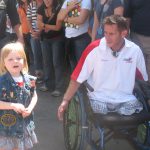 Anderson was seriously wounded by an IED and lost three limbs. He has appeared in the movie The Wrestler, on television on CSI: NY, and Alive Day on HBO. He was escorted from LAX to the Fair by members of the Patriot Guard Riders motorcycle club, and was greeted by a large crowd when he arrived. Along for the ride was 4-year-old Margot Ava Moore, the unofficial youngest Patriot Guard Rider, who performed an impromptu rendition of "I'm Proud to Be An American" to an amazed audience.
All $1 admission proceeds will be donated to USA Cares, an organization dedicated to helping bear the burdens of service by providing post-9/11 military families with financial and advocacy support in their time of need.
This weekend's fundraising drive is just one way Fairguests can get a discount on admission and give back to the community at the same time. Check out these other opportunities (and get more details here):
Blood Drive: Be a lifesaving hero at the American Red Cross Blood Drive on Tuesday, Sept. 14 and receive one any-weekday admission ticket to the Fair. The blood drive will be 10 a.m.-8 p.m. at the Sheraton Fairplex Hotel. Make an appointment at givelife.org and enter the sponsor code fairmckinley.
Book Drive: Univision Television presents a book drive on Sunday, Sept. 19. Children 12 and younger will receive free Fair admission from 10 a.m.-2 p.m. when they bring a new or slightly used book.


Food Drive: On Ralphs Food Drive Fridays, Fair guests who bring five cans of Ralphs brand food on Fridays before 6 p.m. to the Fair receive an admission ticket. Help us try to break our record from 2009 by collecting over 60,000 cans! All canned food will be donated to Los Angeles Regional Food Bank.
Community Days: Local communities are participating in the Fair's Community Days celebrations where their residents can get $5 admission before 5 p.m. with a coupon or voucher available here. For each $5 admission, $1 dollar is donated back to the respective community. The Community Days schedule is available here.