FairView Farms is turning into a dude ranch as cowboys and cowgirls converge for plenty of fun during Western Days & Rodeo Nights.
Opening Weekend kicks off rodeo action with the Extreme Rodeo Games Saturday and Sunday from 8 to 10 p.m. The sanctioned event includes such contests as Cowboy Poker, Rawhide Racing, Hay Bucking Competition, Wild Cow Milking and the Ring of Fire.
The Painted Magic Drill Team performs fun, fast and exciting drill maneuvers for screaming Rodeo fans, including one they've developed just for the Fair. They'll take over the ring Saturday at 2:30, 7 and 9 p.m., and Sunday at 3, 7 and 9 p.m.
California Gymkhana Association performs in timed events where the horse and riders race for the fastest times around the course, Saturday through Monday, 10 a.m.-5 p.m.
Wild Horse Racing has three-men teams trying to saddle wild horses in only 50 seconds on Saturday and Sunday at 7:30 p.m.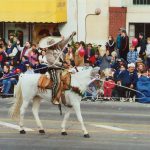 The famed Benny Martinez will demonstrate trick roping and the heritage of the Mexican cowboy, the charro, on Monday, Sept. 6 at 1, 3 and 6 p.m. to kick off several performances at the Fair this year. Called "the finest trick roper alive," he regularly leads his family in the annual Rose Parade. His wife Rosa narrates his shows at the Fair that are choreographed to Spanish-style country music.