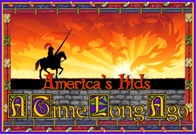 Visitors to the 2010 America's Kids will be transported A Long Time Ago… as they step into the exhibit presented by King Taco. They'll explore the era when kings and queens ruled the land, knights jousted for the attention of princesses and everyone wore funny hats.
Entry forms are due Tuesday, July 6, for America's Kids, and may be downloaded from www.lacountyfair.com, but must be postmarked no later than July 6 to L.A. County Fair, Attn: America's Kids, P.O. Box 2250, Pomona, CA 91769.
Contest exhibits must be delivered between 8 a.m. and 5 p.m., Saturday, July 24, to America's Kids at Fairplex, 1101 W. McKinley Ave., Pomona, CA 91768. Parking is available through Gate 1; proceed to America's Kids in Fairplex building 10.
Featured competitions keep things medieval: "Stained Glass Art" created with hot glue or puff paint and paint, markers or crayons, "Decorate a Crown" where imagination and a few craft supplies combine for beautiful crown jewels, and "Castle Banner or Shield" that will decorate the walls of America's Kids castle's walls.
Other theme competitions include Medieval Character Competition, Sock Dragon, Fairy Fashion Fun, Build a Knight, Castle Coloring Competition, and "My Own Fairy Tale" writing competition. There will also be a kids' A Long Time Ago… Fashion Show.
This year's theme has also been added to many of America's Kids traditional competitions. Division class details and entry instructions are also available at fairplex.com. For more information, contact Nancy Bates at bates@fairplex.com, or by visiting www.lacountyfair.com.