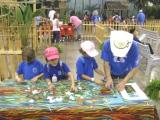 Each weekday of the Fair, thousands of school children rush through the gates of the Fair for an experience they won't forget. Our FairKids Discovery Club field trip program is a hands-on one-of-a-kind adventure. And it complies with the state Department of Education curriculum standards.
Today is a big day – more than 13,000 students are visiting the Fair, including FairView Farms, Going Green, Jurassic Planet and the Flower & Garden Pavilion. I saw many kids out there this morning taking notes in Going Green, obviously preparing for in-class discussions they will have when they return to school.
Last year more than 100,000 students and their chaperones visited the Fair. We hope it is more this year.