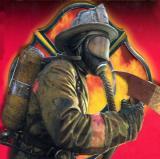 While we are here getting ready for the Fair, real heroes have been going above and beyond the call of duty battling the blazes in Los Angeles and San Bernardino counties. The L.A. County Fair extends a heartfelt thanks to all the firefighters who've braved the frontlines the past week, and everyday. To recognize the work and dedication of these hardworking women and men, the Fair is pleased to present A Day for Heroes.
Beginning Sept. 11, and continuing every Friday of the Fair, fire personnel, police, paramedics, active and retired military and reserves, with ID, along with one guest, can attend the Fair for $1 each. The money collected will be donated to USA Cares, an organization that offers financial and advocacy assistance to post-9/11 active duty U.S. military service personnel, veterans and their families.
Again, thank you Firefighters! We hope to see you at the Fair.