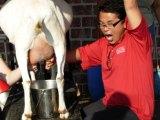 Yep, that's correct. One month from tomorrow (ok, 32 days – sheesh!), the illustrious gates of the L.A. County Fair will open to guests of all ages. We have a great program planned for 2009 but what's the main reason to come to the Fair? A Fair-cation at an affordable price! We have such amazing deals, you should NOT have to pay full price to get in. We will not squeeze you dry.
That's right. I said it. Do NOT pay full price! Take a look, and then take ACTION, to scoop up one of these great deals:
• Labor Day Weekend treats: Besides the $1 admission from 10 a.m. to 1 p.m., all 22-ounce soft drinks are just $1 at all food and beverage stands from 1 to 4 p.m.; carnival rides, games and select food items are just $1 from 4 to 7 p.m.
• Super-Saver Season Pass: If you plan on coming to the Fair more than twice, this is the deal of the year! For just $24.95, guests ages 6 and older can purchase a Season Pass, good everyday of the Fair. Show pass to a Fair parking attendant and receive a free parking upgrade, a $5 value, good weekdays. All customers who purchase a season pass will receive a RCS Carnival Coupon Book with valuable ride, game and food and beverage discounts for the carnival. The Pass is a $420 value.
• AT&T Any Day Admission Tickets: Come to any AT&T store to purchase admission tickets for just $10 for adults and $6 for ages 6-12.  Customers must print tickets online, at Fair admission kiosks or at any Fair ticket booth. Each AT&T adult and child any-day admission ticket comes with an exclusive unlimited ride carnival wristband offer (purchase required, restrictions apply). Wristbands are $35 and must be purchased before 9 p.m., good until 11 p.m. weekdays; must be purchased before 4 p.m., available for use until 7 p.m. weekends.  With purchase of the unlimited ride carnival wristband, customers will also receive a voucher good for any two midway carnival games (up to a $10 value). Wristbands must be purchased at a carnival ticket booth. Presented by AT&T.
• McDonald's Wednesdays:  Admission to the Fair is just $20 Wedne

sdays, which includes an unlimited ride carnival wristband. Vouchers for Wednesday specials are available beginning Saturday, Aug. 30, at participating Southern California McDonald's restaurants. Presented by McDonald's.
• Online Pre-Sale Admission Tickets through Aug. 31: Purchase any-day admission tickets online for just $10.
• Online Carnival Pre-sale Offer through Sept. 14: Receive 10 percent more carnival ride tickets when purchased online. Carnival rides average 3-9 ride tickets.
• Ralphs Fun Pack: Wednesday –Friday,  just $28,  includes two  weekday admission tickets, two five-ride carnival passes, two corn dogs or hot dogs and two  16 oz. soft drinks (available in the carnival midway only), in-store bounce-back coupons good for Ralphs food products. Fun Pack coupons are available at participating Ralphs grocery stores, beginning Aug. 30 through Oct. 2, or while supplies last.  Presented by Ralphs.
• Seniors: Seniors ages 60 and older are admitted for $14 weekends, $9 weekdays and just $6 Wednesdays, Senior Days. Groups of 20 seniors or more receive $5 admission and can take advantage of a Senior Club Discount Card with $1 off Fair admission Wednesdays, Senior Days. RCS offers free rides on Ferris wheels in the carnival and at the Clock Tower, Wednesdays for ages 60+.  Now that's a sweet deal!
Lots and lots of sweet deals. There is no reason why I should not see you here on one (or more!) of the 23 days of the Fair.
Check out our Web site for more deals!