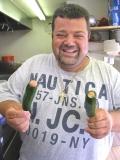 To understand the ideas of Charlie Boghosian, you must first understand the man, his philosphy and his dreams. You probably know him as Chicken Charlie, the affable mastermind behind the deep-fried goodies you treat yourself to at the L.A. County Fair. You gotta love his way of living and creating. It isn't anything complicated, there is no self-help-book-induced formula. It's basically this: find inspiration everywhere and if it sounds good, fry it and try it!
Man! If someone had only told me that before I entered college and majored in journalism! Charlie has been living this way for 26 years and has found enjoyment and success. He truly is a man for all seasons, or is that seasonings?
Take a look at him frying up his latest creation – the Zucchini Weenie!

I can tell you from experience, it tastes pretty darn good! He did test the Zucchini Weenie at the San Diego County Fair, where he sold 11,000, and expects to sell 25,000 at the Orange County Fair. I'm sure he'll double that at our Fair, where he expects it to be his Number One seller! "The response has been phenomenal," he said. (Don't worry – he'll still have deep-fried Twinkies, deep-fried Oreos, deep-fried avocados and the ever-popular deep-fried frog legs, of which he sold 1,000 lbs of at last year's Fair.)
For this latest creation, Charlie went home – literally. While visiting his mother, he watched as she made a favorite dish of their Armenian clan – stuffed zucchini. "She hollows out the zucchini and stuffs it with rice, ground beef, onions, garlic. I thought I could put a hot dog in there. I tried it, put it on a stick, covered it with corn dog batter. Bam! Meat and vegetable all on a stick, Fair style!"
You can't be that – protein plus vegetable, served with your favorite dipping sauce – ketchup, mustard or ranch dressing. Chicken Charlie has done it again! He really should be Oprah's personal chef.
Check back for part 2 of my interview with Charlie, when he spills the details on batters, experimentation and the Chicken Charlie Deep Fryer waiting to TKO the George Foreman Grill.