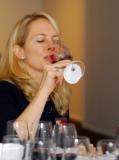 And white, and rose, and bubbly! Yes, the air above Fairplex will be fragrant with every varietal of wine come next week. The Los Angeles International Wine & Spirits Competition and the Extra Virgin Olive Oil Competition both get under way next week. The prestigious wine judging celebrates its 70th year this year.
Nearly 100 judges from around the world will sniff, swirl and spit more than 3,000 wines to find the ones that suit and soothe their palate. The judges are winemakers, wine writers, sommeliers, food experts – the best of the best.
So, we have a great wine competition, but what does this mean for you the Fairguest? Well, it means you can try out the medal winners at the L.A. County Fair. Wine tasting (and beer and extra virgin olive oil, too) is available at the Wine & Spirits Marketplace, presented by Ralphs, throughout the run of the Fair. It's a great opportunity to tast a variety of varietals, see what piques your palate's interest for home enjoyment.
And, if tasting wasn't enough, the Fair offers wine education classes. All the classes have not been finalized yet, but once they are I'll post a link so you can see what interests you.
If you can't wait until the Fair, you can enjoy the competition award winners at Wine & Cars Under the Stars, June 20 at the Wally Parks NHRA Motorsports Museum.