Hey fellow lovers of four-legged, wet-nosed cuddly, cute, catch-playing, bone-loving creatures. No, not you dinosaur lovers – I'm talking to my dog friends! You know we are bringing Bark Park back to the Fair this year. For those of you who can't wait until September for some canine shenanigans, this weekend at Fairplex is the Mission Circuit Dog Show. Thousands of dogs will mark their spot (oh heavens, we hope not literally!) from Friday to Monday in this dog competition that has become a Fairplex Memorial Day weekend tradition.
More than 160 breeds will be represented. And even if you aren't the type to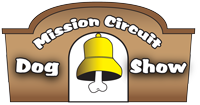 enter your dog in a show, there is plenty on hand for the casual couch-dogtato owner. The show will feature pet adoptions, seminars, grooming tips, breed information, training tips, vendors and more.
Tickets are $6 for adults, $4 for seniors, $3 for children ages 6 – 12, and ages 5 and younger are free. Check our Web site for a coupon.
So, shake the keys at the kids and take a ride on over to Fairplex this weekend. It will be doggone terrier-tastic!