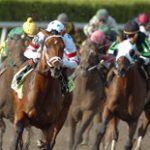 This Saturday will be my first ever Kentucky Derby Party so I have been doing a little research. I realize that this makes me somewhat of a "nerd" to most, but I'd like to think of it as necessary preparation… it's not every day that I get to wear a dress and hat, so I wanted to ensure that I was doing everything properly.
I have to say that my research has yielded some fascinating information! I would like to share with you what I found to be most helpful.
How to wear your Kentucky Derby Hat: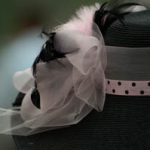 Placed down on the head, with just one finger's width over the eyebrow to the hat's brim.

Pull the hat down onto the head, so that the crown is touching the top of the head.

Tilt your hat slightly to one side.

Just the hat and the face should be the focal point.
Now I have to say that I am VERY grateful for the above tips. Having never worn anything more than a baseball cap before, I had no idea that there was so much involved! See?? And you all thought I was being nerdy! Ha!
The Kentucky Derby is more than just magnificent horses, calculated wagering, and delectable mint juleps; it is also a true day of fashion! The best part is that you don't have to head out to Churchill Downs just to be part of the fun. You can stay right here in sunny California and join us for a spectacular Kentucky Derby Party – tilted hat and all!