I love food – I can't help it! When I'm eating I think about how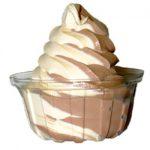 delicious it is and when I am not eating I am planning my next meal.
I have to say that working on this year's L.A. County Fair is not helping much. All of this food talk just makes me hungrier. Whenever someone mentions the Fair all I can think about is vanilla soft serve with caramel and sprinkles. I know it's a little lame considering all of the other fried goodies we have to choose from, but I'll take soft serve any day of the week – sometimes twice! What can I say – I love Dairy!
Needless to say with my love for Dairy comes one of my favorite competitions of the year – the Los Angeles International Dairy Competition! Last year was my first competition and I have never seen so much ice cream, cheese, milk, butter, yogurt, or sour cream outside of a grocery store! I have to say – it was a magnificent sight! It's only April and I can't wait for this year's competition and it's in August!
I'm not an official judge or anything – especially since I have never met an ice cream I didn't like, but just taking part in the competition is gallons of fun. The best part is that the winners of the competition will be on display in FairView Farms for all to see… just follow Daisy to the pink and brown aisle!