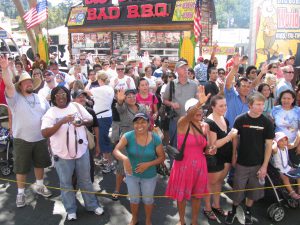 So, it's the last weekend of the L.A. County Fair. Better hurry up and get over here! The weather isn't too bad – this evening will be perfect! Tonight we have LG World Championships of Freestyle Motocross, tomorrow night Gavin Rossdale and Lifehouse.
It's your last chance to see A Pirate's Life, all the animals in FairView Farms (I heard we have a 26 lb. rabbit out there!), ride down the Giant Slide and enjoy life a little.
We had our last parade today and the Fair-ey Blogster had a chance to ride atop the Pirate Ship float. Lots of fun, everyone had a great time, the crowd loved getting the Mardi Gras beads we tossed to them. See, why would you want to miss this?