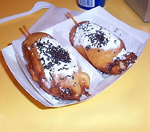 The entire L.A. County Fair family would like to extend a heartfelt congratulations to "Chicken" Charlie Boghosian and Dawn Clasen – who are getting married tomorrow, April 25. Chicken Charlie is  the Deep-Fry King at fairs throughout the region. He is the one who comes up with the deep-fried Oreos, deep-fried Twinkies, deep-fried frog legs and last year's deep-fried Pop Tarts. Basically, he'll deep fry anything if you'll eat it. So, as one more deep-fried bachelor bites the dusty powdered sugar, we take a look back at one of our favorite people in the whole wide oil-splattered world – Chicken Charlie:
There once was a man named Chicken Charlie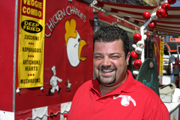 Whose whole existence was frying up things gnarly
He trailered his deep-fried treats from Fair to Fair
Concocting unusual menu items from his lair
Deep-fried Snickers – always a treat
Let's try something new - deep-fried Spam with pineapples can't be beat
Deep-fried cookies, Coke, candy bars and Hostess snacks kept his eye
Until, one day, Dawn walked by
Chicken Charlie thought, "Now, there is something I can't deep fry."
But, wait, he thought, maybe I can try.
True love blossomed, with no canola oil involved
Two hearts together, this love cannot be dissolved
Not by frying or battering or chocolate sauce
Charlie and Dawn, a greater love is hard to come across
Chicken Charlie is loving life
He now has a Deep-Fried Wife!
Congratulations to our friend Charlie and his lovely bride Dawn! May you find many deep-fried blessings!
In case you haven't seen it, here is Chicken Charlie in action at last year's L.A. County Fair:
http://www.youtube.com/watch?v=r6jOVvlQqec