By now I'm sure many of you have already visited the Fair at least once, but for those of you who haven't taken the time to #DARETOFAIR, continue reading as I go over the top 5 things to do at the 2016 LA County Fair.
1)      Indulge – We love food and know you do too!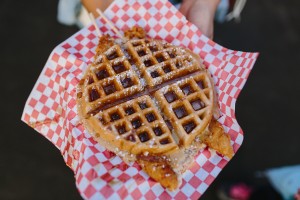 With such concoctions as deep-fried hot sauce, chicken IN waffles (served on a stick), spaghetti ice cream, guacamole balls – battered and fried, bacon-wrapped everything and the belly-buster Krispy Kreme triple cheeseburger, take the day off and eat. Don't fight it. The Fair only comes around once a year.
2)      Roar! – The LA County Fair takes you back 65 million years with life-sized dinosaurs roaming the hillside behind the Flower & Garden Pavilion. Jurassic Planet features 35 animatronic creatures from the mighty T-Rex to the lovable Maiasaura, so realistic you'll truly think you've stepped back in time. Everyone becomes amateur paleontologists with a dino dig pit and fossil hunting. A real paleontologist is on hand to answer any and all questions. A nominal admission fee required for ages 6 and older.
3)      OUR BODY: The Universe Within – Go under the skin of human anatomy – literally! – with this fascinating, educational exhibit of 200 uniquely preserved human specimens offering a vibrant, 3D view of our bodies usually reserved just for doctors.
4)      The Igloo – Chill-out in our Arctic Village with Polar Ice Rink* and Penguin Sled Run* made with real ice and snow!  Shop the Arctic Promenade for cool products and come back after 6pm for an all-ages dance party featuring DJ Cool and periodic snow storms.  *. A nominal admission fee required for ages 6 and older.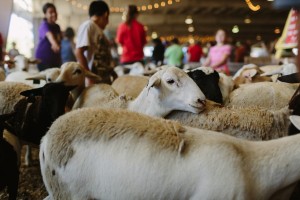 5)      The Farm – One of the favorite attractions at the LA County Fair, The Farm features a five-acre organic urban garden and the Big Red Barn, home to familiar and not-so-familiar barnyard critters. Children (and adults) love hanging out with our sheep, pigs, goats, chickens and cows.

LA County Fair Giveaway
**WE HAVE OUR WINNER** 
Congratulations to ARMANDO for being selected as our winner! Armando says his kids would like to see all the animals, while he and his wife would enjoy trying all the Fair food before our season comes to an end. 
Thank you to everyone for playing!
What would you like to see before the Fair goes away?
Comment below for your chance to win a family 4-pack of admission tickets, carnival ride passes, and a #DARETOFAIR swag bag!
Winners are selected randomly and will be announced Friday, Sept. 23 at 2 pm PDT.