When I came in to work this morning, everything was great and peachy. However, after a few minutes in the vicinity, my stomach was tied up in knots and I felt the need to go back to my house and just sleep! The strangest feeling ever – and I had no idea why!
Today seemed like a typical Sunday…I clocked in, said hello to everyone I came across, turned on my computer and checked my email. Normal enough, right?
Well, it wasn't until one of my coworkers reminded me of my goat-milking session with Stella (goat) that my blood rushed to my hands and feet and I almost fell off my seat!
You see, I love Farm animals, but I've always preferred to give them their space and let them carry on with their business.
Since I was worried about hurting the goat, I arrived to an hour earlier to talk to Sarah, the Goat Handler!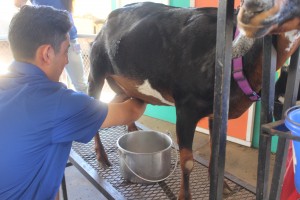 Here are a few things I learned from Sarah's class:
A female goat (aka Doe) produces milk for their babies. Once the babies have been weaned, the mothers need to be milked 1-2 times per day in order to continue producing their milk for the next 10 months of the year.
The amount of milk produced depends on the size of the goat.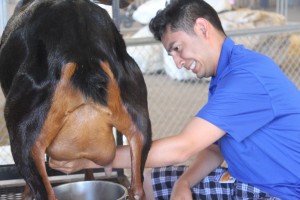 Temperature of the milk is typically above 100°F – which is body temperature.
Diet is high in protein — alfalfa hay should be available 24/7. This is what helps their regularity.
Diet also includes occasional grain mixture (aka goat candy), that includes barley, grains and sunflower seeds.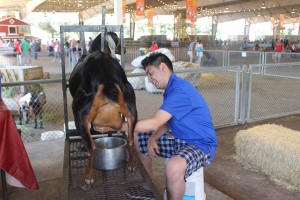 Sunflower seeds help produce sweeter tasting milk because of the additional fatty oils.
Takes about 5-8 minutes to do an average milking.
Goat milk is stored in mason jars in the freezer. Best if used within 30 days.
Goat milk can be used to make ice cream and goat cheese too.
***BONUS: Always be gentle when you're milking a goat and NEVER pull on their teats!
It's true what people say…Sunday is the best day to try something new. 🙂 If you ever decide to milk a goat or a cow (same process), there is no better place than the
LA County Fair
!
Have you ever milked a goat (or a cow)?
Tell me about your experience in the comment section below.