This week's Volunteer Spotlight is on Gus Smith, another committed Fairplex Ambassador at LACF. After working as a probation officer for 25 years and spending a few years volunteering with other organizations, Gus found his home here at the Los Angeles County Fair.
A perfect fit 
"I fell in love with the Flower & Garden Pavilion," he said. Botany is one of Gus' favorite hobbies — and the Flower & Garden Pavilion, with its peaceful atmosphere and variety of flowers and plants is a perfect fit for him.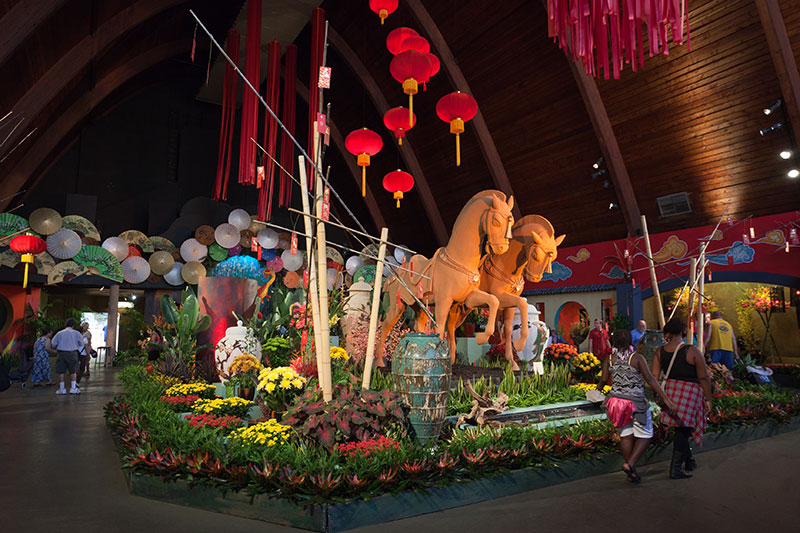 The Flower & Garden Pavilion at LACF 
"I like seeing guests' eyes light up when they enter [the Flower & Garden Pavilion]," he said. "I like it when they see things they've never seen before." When FairKids students visit the Fair, Gus guides them through the exhibition, while also making sure the flowers are kept safe from young, energetic hands and feet.
"Kids have a tendency to want to stand on things in the exhibit," he said. "You just have to politely ask them to stop climbing or touching plants."
Gus himself enjoys growing and tending to orchids, mixing different seeds together to create uniquely colored specimens. Colors vary from blues to orange and red hues. He is happy to share his knowledge of plant life with visitors, giving them a different perspective to the things they see at the Pavilion.
The ambassador community 
Another volunteer highlight for Gus? The community of ambassadors he works with on a daily basis during LACF.
"The people I work with are super," he said. "Time really does fly when you enjoy the people you are spending your days with."
Like Gus, many of the volunteers who work at the Fair enjoy working with the FairKids program and acting as docents of the educational exhibitions each year.
"Volunteering has helped me grow into a stronger person, without a victim attitude."
When he's not at the Fair helping with the FairKids Field Trip Program, Gus can be found volunteering at other organizations like the West Covina Senior Citizen Center, spending time with seniors who are unable to be out and about. He also takes kids out to the Redondo Beach Pier, teaching them how to fish through another volunteer program.
"What would I do if I just sat at home?" he asks. "You're not going to get better by doing nothing. When I wake up in the morning, I'd like to think I've done something to help people. That's what I do. I help people."
To learn more about the Fairplex Ambassador program, visit our Volunteer Hub.