If you consider yourself a "beer snob" then LACF is the place for you. We offer a number of tasty brews for your choosing including the new addition of our craft beer tasting classes. 
Located at the Wine, Spirits and Beer Pavilion, our beer tasting classes are offered every weekend of the Fair with five samplings of different beers. Each weekend features a different topic, from food and beer pairings to cooking with beer. Not a bad way to spend an hour or two at the Fair!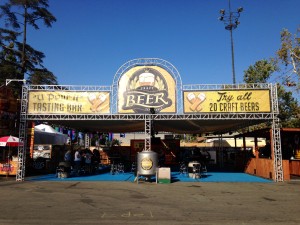 Returning to the Fair this year is our popular iPourIt system. This station allows patrons to sample a number of craft beers by the ounce (or more, if you like what you find!)
Whether you're an IPA drinker or a lager fan, there's something for even the pickiest of beer drinkers. Watch the video below for an idea of how it works:

Sometimes there is no better way to beat the heat than to indulge in a delicious drink and take in the sights of the Fair. Do you have a favorite beer? Or a favorite treat at the Fair? Tell us in the comments below or share with us on social media using #discoverLACF.