Our second LACF Scavenger Hunt weekend was a smashing success! Your deductive reasoning was on-point and you found us in no time! In case you weren't able to participate in the game, here's what you missed:
Our journey began bright and early Saturday morning. We met up with Haley and gathered our concert tickets, ride passes, Hot Blog On A Stick tees and other prizes for the day.
Our first stop: Venice Beach! The fresh ocean breezes, artistic crowds and warm summer sun made it a perfect Saturday morning. We set up camp near the art walls, where taggers are free to express their creativity in any way they choose.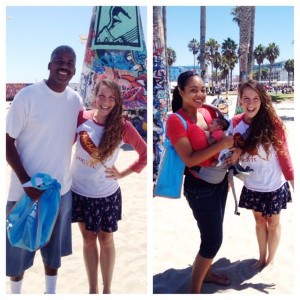 Our next location was The Grove. We were tempted to stop and grab a cupcake at Sprinkles but you guys found us so fast we didn't have time! We love seeing so much enthusiasm: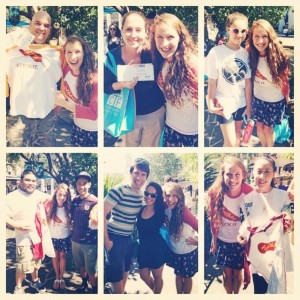 After spending all day Saturday on the Westside we decided it was time to show a little love to the San Gabriel Valley and Inland Empire side of Los Angeles. Kara joined us to help us give out the goodies in these locations.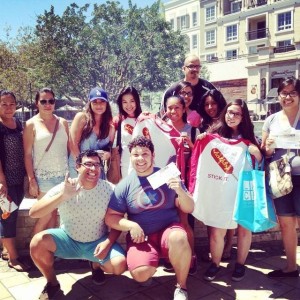 Our first stop of the day was the Americana. It took about .05 seconds for most of you to figure out what our clues meant, and a lot of you were already waiting for us when we arrived! Needless to say, it was a lively crowd at this location.
We gave away every single prize, from Fair admission tickets to Luminasia passes to LACF bags full of swag. Our fans were pretty happy with their findings.
Our theme for this year's scavenger hunt was Los Angeles — from the beaches to the mountains and everywhere in between, but we know we have a lot of loyal fans in the Inland Empire too and we wanted to show our appreciation with a very special final destination.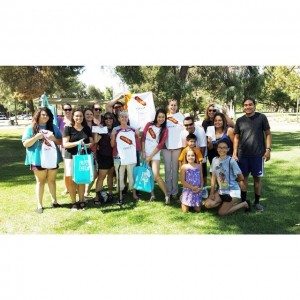 We didn't make the Fairgrounds our final location — that would be too easy — but we did stop someplace very close to home: Ganesha Park. Based on your Instagrams and Facebook posts, quite a few of you beat us to our final "hidden" location too!
It was a perfect ending to our hunt. We met some very cool people and gave out the last of our prizes.
If you joined us this weekend, make sure to share your experiences on social media, using the hashtag #discoverLACF.
Follow us on our blog and social media channels for more giveaways, behind-the-scenes footage of the Fair and the latest on everything going on this year, from new Fair foods and new exhibitions to favorites like the pig races and Farm animals.
See you all very soon!