Our first scavenger hunt weekend was a smashing success! We loved seeing how invested everyone was and it was a blast giving away concert tickets, ride wristbands, Luminasia passes and of course, plenty of Fair swag! Here's how it went down:
First stop: Griffith Park. LACF host Trent and the scavenger hunt team brought loads of swag bags and prizes and waited. It didn't take long for you guys to find us!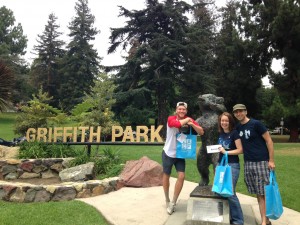 Two of our lucky winners posing with Trent  
The big win: Fair admission, Fair swag and tickets to see Pentatonix! We also handed out Fair swag bags to the runners-up. It wasn't hard for hunters to spot the bright blue bags in the park.
Stop number two: Union Station! We 'hid' near the Metrolink station. We had a bunch of scavenger hunters waiting for us at this location.
These folks won ride wristbands, Luminasia tickets, Fair admission and tickets to see Boyz II Men!
(P.S. Metrolink trains will drop passengers off directly at LACF every weekend of the Fair! Plus, Metrolink riders receive a special discount on Fair tickets. More details on that coming soon.)
Before we knew it, it was time for the second day of the scavenger hunt. We met up with LACF host Arthur and loaded him up with more Fair passes and concert tickets to see Neon Trees/Cher Lloyd and Roberto Tapia!
Our first stop was the famous Wiltern Theater in Koreatown. It didn't take long for fans to spot Arthur and our swag bags: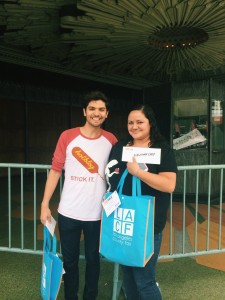 After giving out all of our prizes we took a quick break for lunch, then hopped on the freeway to get to Plaza Mexico, our final location for the weekend.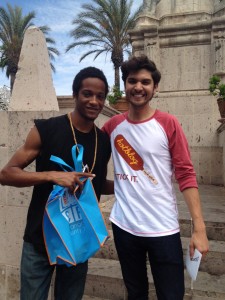 It was crazy driving from one Los Angeles neighborhood to the next but it was awesome to see how many Fair fans we have, all over the county.
Some of you gave suggestions on where we should go for our next scavenger hunt. Don't worry, we heard you! We can't tell you where we'll be exactly, but we've chosen locations in all parts of Los Angeles 😉
Thank you again to everyone who played and made the hunt so fun. Our next scavenger hunt goes live August 16th so stay posted for additional details!
If you joined us this weekend don't forget to post your pictures on Instagram using the hashtag #discoverLACF. Check out the rest of our pictures from the hunt on our Facebook album too.
Only a few more weeks until we open. Can't wait!